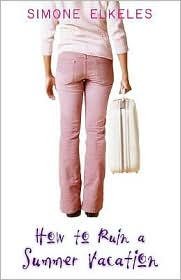 Title:
How to Ruin a Summer Vacation
Author:
Simone Elkeles
PAPERBACKAmount of Pages:
233
Publishing year:
2006
Extra Info
: The prequal to
How to Ruin my Summer Vacation
and
How To Ruin Your Boyfriend's Reputation
!
Summary
(Credits to back of the book):
Moshav? What's a moshav? Is it "shopping mall" in Hebrew? I mean, from what Jessica was telling me, Israeli stores have the latest fashions from Europe. That black dress Jessica has is realy awesome. I know I'd be selling out if I go wtih the Sperm Donor to a mall, but I keep thinking about all the great stuff I could bring home...
Unfortunately for 16-year-old Amy Nelson, "moshav" is not Hebrew for "shopping mall." Not even close. Think goats, not Gucci.
Going to Isreal with her Estranged Isreali father is the last thing Amy wants to do this summer. She's got a serious grude against the "Sperm Donor" for showing up so rarely in her life. Now he's dragging her to a war zone to meet a family she's never known, where she'll be stuck in a house with no AC and only one bathroom for seven people all summer- no best friend, no boyfriend, no shopping, no cell phone...
Goodbye pride-hello Isreal.
Wdebo's Review
: This book was very witty and charming it was so sweet and cute! I liked the story a lot, its nice to read about cultural shock once in a while.
Pro:
Simone Elkeles' characters in this story are very funny, witty and smart. This is such a great funny and sweet story, I loved it!
Con:
The characters can get a little annoying sometimes but just a bit.
All in all, it's such a sweet book that all of you should read!
Grade:
B+
Wdebo :)