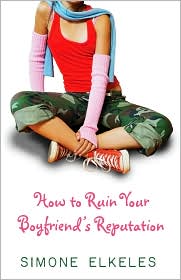 Title:
How To Ruin Your Boyfriend's Reputation
Author:
Simone Elkeles
PAPERBACK

Amount of Pages

:
257
Publisher:
Flux
Release Date:
November 1, 2009
Geared Towards:
Teens
Extra Info:
This is the third book in the
How To Ruin
series.
From:
Thanks to Flux for sending me a review copy!
"God, take care of him, I pray silently. Because he's my past, and my future"
Summary
(From B.O.B):
Guess who's jetting off to
the Holy Land this summer!
Yes, it's me-Amy Nelson-Barak. I've volunteered for ten days of military training in Isreal with my friends. The Sababa brochure said it would be a "fun" summer experience. Okay, so I didn't sign up to probe I'm not a princess stationed at the same base.
Too bad nobody told me:
~It's hot in the Negev desert...like, so hot your makeup melts off and you get under-boob sweat spots.~You can't sleep in until 11 AM~You shouldn't kill bees with your flatiron-don't ask.~Peeing in a hole isn't easy (when you're a girl)-double don't ask.When I find out our team leader is my boyfriend Avi, I'm totally psyched...until I learn he has to treat me like all the other recruits. Can you say OY VEY!
Wdebo's Review:
Oh. My. God. I absolutely ADORE the How to Ruin series...they are just so easy to relate to (the teenage sarcastic voice part not the dating-a-hot-Isreali-soldier-and-being-part-Isreali-myself part). Amy is such a great character...her voice is funny and just seems to voice everything that a teenager would actually think.
I absolutely love her storyline and writing, the writing is very simple but just so addictive...it just pulls you in and makes you want to read until the very end to see what kind of shananigins (lol-love that word) Amy can get herself into...and the total heart pounding romance she gets with Avi. Except the first page is kinda cheesy...the "Hi My name is..." is very Junie B. Jones...but I guess it does help you get into the story again. The
How to Ruin
series just seems to get better and better with every passing book.
Fav character? Avi def! OMG he's like the perfect guy in the whole world. He's perfect because of his imperfections...(Too perfect people are weird and kinda scary...that just makes them unperfect?) he has problems too, but he's a) hot b) a soldier c) very romantic and just seems like the perfect guy except for the small
*Spoiler Alert!*
he kissed another girl more then three times! Gasp
*Spoiler ended*
but apart from that I wouldn't mind having my own Avi next to me :)
Cafe Cover Chat:
I like the cover a lot it's very simple and the white and pink lettering contrast nicely..and I really like the curly font it's pretty.
(B+)
All in all, all
How to Ruin
lovers will not be disappointed...such a great story. And for those who haven't discovered the
How to Ruin
series yet...go out and get the first one (list of titles on the bottom), I hope you enjoy!
Grade:
A-
Wdebo :)
********
Books in the
How to Ruin
series...
1.
How to Ruin My Summer Vacation
[Click
HERE
for review]
2.
How to Ruin My Teenage Life
[Click
HERE
for review]
3.
How to Ruin Your Boyfriends Reputation