FINALLY!! AP testing (For me that is) IS OVER!!!!!!!!!!!
So, to celebrate I went to the library, but sadly I could only get
four
books, but they were what I wanted :D
Wintergirls
By: Laurie Halse Anderson
(From front flap):
"Lia and Cassie were best friends, wintergirls frozen in matchstick bodies. But now Cassie is dead. Lia's mother is busy saving other people's lives. Her father is away on business. Her stepmother is clueless. And the voice inside Lia's head keeps telling her to remain in control, stay strong, lose more, weigh less. If she keeps on going this way-thin, thinner, thinnest- maybe she'll disappear altogether."
(Wow, I was so excited to read this book I heard so much hype from other book bloggers and I just started a bit, it's quite disturbing but good!)
Here's the book trailer...
The Elite
By: Jennifer Banash
(From B.O.B):
"When Casey McCloy steps in the Bramford, she's overwhelmed by the sophisticaton and elegance of it all. Fresh from the Midwest, she's moved to New York City to live with her grandmother and attend the prestigious Meadowlark Academy. Here, all that matters is who you know. The designer to know is Zac Posen. The girl to know is Madison Macallister: popular, pretty, and platinum blond. She's not just Casey's new classmate and neighbor; she's an icon. So Casey aims to get in with Madison and her gorgeous gal pals from the start. As the reigning queen of coolness, Madison is capable of destroying reputations with one well-timed whisper. Better to be on her good side.
After a haute makeover from her new frenemy Madison, Casey is wearing the right cloths, saying the right things, and meeting the right people. Including Drew, the boy-about-town Madison thinks belongs to her and her alone..."
(I have also heard a lot about it, and am v excited to read it!)
Zombie Queen of Newbury High
By: Amanda Ashby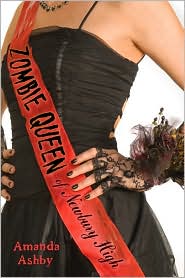 (From B.O.B):
"Quiet, unpopular, noncheerleading Mia is blissfully happy. Rob-super hot football god-has asked her to prom! Life couldn't get any better. Enter Samantha- cheerleader queen and Miss Popularity-who has made it quite clear that Rob should be her prom date. Mia is desperate to make sure she doesn't end up dumped in front of the whole school. So with prom in just a few days, she turns to Candice-her holistic, hypochondriac best friend- and decides to try a love spell to make Rob stay with her. Unfortuanately, she ends up inflicting a zombie virus on her whole class instead, and she is their zombie leader! At first, she loves all the attention. But when she learns from zombie hunter hottie Chase that her classmates will actually try to eat her in a few days, he's nto too thrilled. She's sure she and Chase can figure something out, but in the meantime, she's suggesting that no one wear white to prom, because things could get very messy.
(It just sounds cute and funny. Oh yeah, zombies + romance = perfect)
You Are So Undead To Me
By: Stacey Jay
(From B.O.B):
"Megan Berry is a Zombie Settler by birth, which means she's part-time shrink to a whole bunch of semi-dead people with killer issues. All Megan really wants is to go to homecoming, but when you're trailed by a bunch of slobbering corpses whenever you leave the house, it's kinda hard to score a date. Let's just say Megan's love life could use some major resuscitation.
Megan's convinced her life can't get any worse-until smeone in school starts using black magic to turn average, angsty Undead into scary, hardcore flesh-eating Zombies. Now it's up to Megan to stop the Zombie apocalypse. Her life- and more importantly, the homecoming dance-depends on it."
(Again like said before- zombies + romance = perfect)
(Unpictured) So I recieved an autographed book plate and a book mark from Cindy Pon!! Yeah! Srry I can't find it (But I know I have it) so I can't take a pic, my desk is way too messy!!
None :(
So, what did you recieve this week?
Wdebo :)