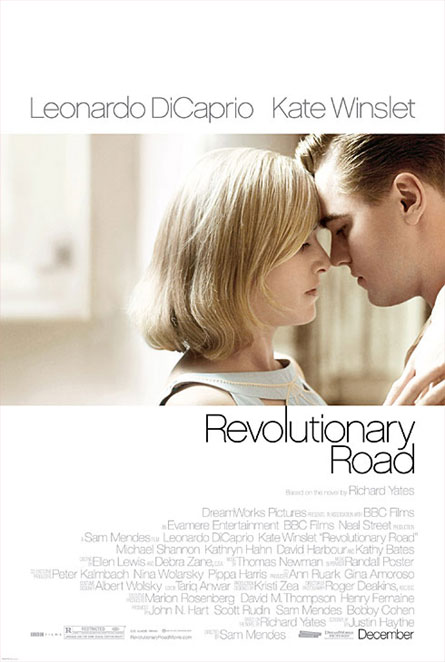 Title:
Revolutionary Road
Publisher: Little, Brown & Co. (1st edition)
Publishing Year: 1961 (1st edition)
Movie Info:
Stars
Leonardo DiCaprio
as
Frank
and
Kate Winslet
as
April
.
"They were a rather strange young couple. Irresponsible. The guarded way they look at you; the way they'd talk to you; unwholesome, sort of"
Summary
(From B.O.B):
In the hopeful 1950's, Frank and April Wheeler appear to be a model couple: bright, beautiful, talented, with two young children and a starter home in the suburbs. Perhaps they married too young and started a family too early. Maybe Frank's job is dull. And April never saw herself as a housewife. Yet they have always lived on the assumption that greatness is only just around the corner. But now that certainly is about to crumble.
Wdebo's Review
: Just a note, I am so sorry I haven't written any of my own summaries in FOREVER but I've been really busy so yeah.
Anyways, I have never been a big fan of books like this (
A Walk to Remember
is an exception) and the only reason I read it was because I won it. Now, I am very happy I did win it and have a chance to read it because it was very good and totally exceeded my expectations.
I found the first part to be very well written as with the third part. The story was so well written and detailed that my heart went out for this family. Well, not a lot because Frank and April annoyed the crap out of my sometimes. Frank is this really egotistical (haha I love that word) guy who might be blessed with good looks but he struts around and thinks of himself as the alpha peacock. He's rude and cocky. While April is cowering in the corner and only comes out of her shell a bit at the end.
I loved the last part the most, I thought it was the strongest written. The dialogue was so raw and you felt like it was literally playing a movie in your head as you watched the whole thing played out.
The second part, ehh, not so good. I found it boring and dragging and the whole moving to Paris then not moving just seemed like the author put that in to fill out space. It was pointless and went by fast it felt uh.
All in all, this was a ok book. I wouldn't call it a motivating book but it was nicely written and descriptive. I could totally call this book a "classic."
Wdebo :)
I would like to thank
Reviewabook123
for sending me this book! Thank you! Arigato! 謝謝! <3