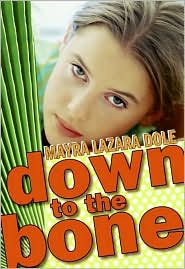 Title
: Down to the Bone
Author
: Mayra Lazara Dole
HARDBACKAmount of Pages
: 351
Publisher
: Harper Collins
Publishing Year
: 2008
Geared Towards
: 14+
Summary
(From the front flap):
Here's what it means to be a
tortilla
.
It means you're a
girl
who loves
girls
.
Which means you get kicked out of
Catholic school
faster than Mother
Superior Sicko
can say "
immoral

".
Which means your
wacko
Mami
finds out.
Which means you're
kicked
to the curb with nowhere to go, and the
love of your life
is shipped off to Puerto Rico to marry a
guy
.
But this is
Miami
, and if you have a bighearted
best friend
and a loyal
puppy
at your side, and if your broken heart is still full of love, you just might land on your
feet
.
Wdebo's Review
: This book was interesting (to put it simply). There was a certain awkwardness to it, but it was still good. The writing was good and the narrator, Laura, was raw and talks from her heart, which is good, none of that mysterious feeling crap that is in some books. Which I hate because you have no idea what the character is thinking, and they are suppose to be the MAIN CHARCTER and yet you have no idea what they're like.
Pro:
It was unique and well written. You can understand what Laura was thinking, and (like I said in the top) her feelings aren't ambiguous like they are in some other books. I enjoyed all the spanish words, and me actually being to understand some. [It made me feel like my Spanish 3 skills were actually coming in handy :P ] It made you understand what the meaning of
family
and
love
really is.
Con
: Some parts were just awkward and could do without. Tazer [a boi who falls in love with Laura] was so forceful and blunt, it made me embarassed just to read parts about him/her.
All in all, this was a pretty good read. I would reccomend it to anyone who is in need of a middle length summer read. [Yeah! Read this book during the summer or vacation time].
Grade
: B+
Wdebo :)