I'm sorry I haven't been posting my "In My Mailbox" for the last three weeks. Last last week I didn't recieve anything so I didn't post, but last week I borrowed a lot from the library, but I didn't post anything because I was on vacation and this week yeah here I am!!
Promise of the Wolves
I recieved this book and when I first saw the cover I was like "ew," but then when I strated reading it I really got into it. Such an interesting narrator.
Dreamland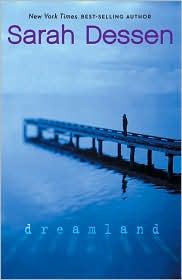 I read it and you can read my review
here
. It wasn't my favorite Sarah Dessen book, but it was ok.
Down to the Bone
I finished it and my review is coming up soon.
Hands Off! Vol 2
Yeah! It was totally as good as the first.
Fat Kid Rules the World
Finished it and loved it...read my review
here
Dead Girl Walking
I totally loved it...read my review
here
Love★Com Vol 14 (Chinese)
Hurray! I haven't bought a book in forever! Since Love★Com is only available up to Vol 11 in English I was thinking it would be great to get a volume that isn't available in English!!
Wdebo :)