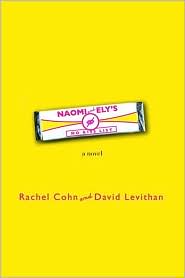 Title:
Naomi and Ely's No Kiss List
Author(s): Rachel Cohn and David Levitahn
HARDBACK
Amount of Pages: 230
Difficulty: Easy
Reccomended for Ages: 14 and up
Extra Info:
These two awesome authors colaborated for the second time! The first book
Nick and Norah's Infinate Playlist
, has become a
major motion picture
, and aparently this book is too! Hayden Pannetiere stars? (If you know anything about it, plz comment!)
Summary:
Naomi and Ely have been best friends since ever. Ely is Naomi's gay best friend. Naomi is in-love with Ely, while Ely just loves her like a sister. Then, one day, Ely finds himself locking lips with Naomi's boyfriend Bruce-the-second, and this epic book begins. While fighting with the prospect of being gay (Bruce the second), the hatred of not having a best friend by your side 24/7 (Naomi and Ely), the need to be with Naomi again (Bruce the First), wanting to BE with Naomi (Gabrielle), the desire for Robin/boy (Robin/girl), this book switches points with the most interesting and unforgettable characters you will ever read, and the search for all different types of love.
Wdebo's Review:
I actually wished for a sequal to
Nick and Norah's Infinate playlist
, so when I first picked up the book, I was disappointed that it featured two new characters. But when I actually read it, I was happy that I didn't throw it down and run away from it. This book was funny and sweet, written in the way that only Rachel Cohn and David Levithan could. The two characters really spook to me they were so real and raw, they could have been my friends that I grew up with. I would reccomend this book to everyone, who adores Rachel Cohn and David Levithan (Author of
Boy meets Boy
-also another good book), so I wish all of you can go out and read this book NOW! 9/10!
Do you want to see the movie Naomi and Ely's No Kiss List? Do you think

Hayden

will be anygood? For those who've watched Nick and Norah, was it good?