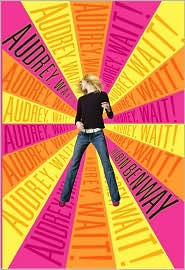 Title:
Audrey, Wait (I am wondering if I should even write this, because its kinda obvious-what do you think?)
Author: Robin Benway
HARDBACK
Amount of Pages: 313
Difficulty: Easy read, especially if you thoroughly enjoy hardcore chick lit plus music, which I do :P
Reccomended for: Ages 14 and up (For cussing-said F word around 7 times or so)
Summary:
Audrey is like any normal teenager, she fell in love with the lead singer of the garage band in her school, then they broke up. Ordinary old stuff right? Not quite. The day Audrey breaks up with her boyfriend, is the day he wrote the #1 song of America "Audrey,Wait!" Now not only are the papparazi up her you-know-what, but she can't even get a date with the cute boy who works with her in the Scooper Dooper, James. Can she live with this kind of fame and get her date, or will she crack under the pressure of being "America's favorite music siren" and have it published in the latest issue of
People
?
Wdebo's Reivew:
This book hit me hard and wouldn't let me go and I loved it! It was so cute and great Audrey really spoke to me, I felt her pain and laughed at her blunders and hid my face behind my face as I got to a part I knew would be VERY embarressing for her. (Well, not literally b/c I wouldn't b able to see the book then). The book was quite cuss filled, but then again, most of the young adult books are, so you can't do anything about it. However, I really liked it, it sticks to me like that song you love and can't get out of your head. 9.7/10.