Book:
"There is something curious about where we live. Something curious about Lily. Something curious about Father and his nightly phone calls with Mother. And certainly something curious about me. Why can I remember the details of the French Revolution but I can't remember if I ever had a best friend?"
Jenna Fox is no ordinary seventeen year old girl. Most girls don't get into a car accident, lose their memory in the future. (At least I'm pretty sure not). After waking up from a year long comma, her parents show her every home movie they have hoping she will get her memory back. She remembers things bit by bit, until she gets to unanswered questions, like what happened after the accident?
The Adoration of Jenna Fox
is one of the most heartfelt, can't-put-down- books in the world. (At least in the young adult catagory). It draws you in from the first sentence and won't let go till the last period. I thourghly enjoyed it. There wasn't anything "bad" in it. (A good pro) and it didn't drag. (Another pro), can't think of any cons, so I would give this book a 9.99/10 (End could have been .01 better)
Taiwanese Drama: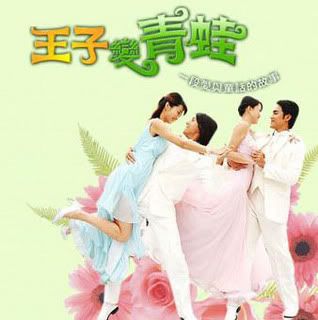 Prince that Turns to Frog
Shan Jun Hao (Ming Dao), is the CEO of the largest hotel chain, Sewell. He is a stereotypical rich man-spoiled and arrogant. He meets Ye Tian Yu (Chen Qiao En AKA Joe Chen), meets Jun Hao when he is visiting Guan Mei (Her village) to shut down her stepdad's motel, because it is part of Sewell. They meet and he immediately doesn't like her, because she sells him a pack of gum (around 3 sticks) for 100NT$ (around $3). After a series of events, Tian Yu "accidentally" runs him over, then he loses his memory and lives with her family under the name of Dang-Ou. After another "accident" he gains back his memory and forgets about TY, forgetting all about how they fell in love with each other. But life isn't so easy when there is a girl you don't know who says you guys fell in love, after a while lots of events happened that wouldn't have happened if those "accidents" didn't happen. Will these events hurt TY and JH being together?
Ok, so I know the english title is weird, I swear I didn't make that title up. This was a cute drama, a great showcase of what Taiwanese Dramas are all about. It did get a little infuriating about how slow it went on some parts though. 9.1/10

CU 2mrrw
Wdebo :)